Back to News & Events.
Shaping the future of the Technical Consortium: Members meet in Washington DC
01 April 2015
On January 12-13, members of the Technical Consortium for Building Resilience in the Horn of Africa (TC) gathered for a planning meeting hosted by the International Livestock Research Institute (ILRI) in Washington, DC. The objective of the meeting which brought together 28 participants from 14 organisations was to create an understanding of the ongoing research and activities related to strengthening resilience in the Horn of Africa, as well as prioritize activities for 2015 and revise the consortium's work plans and work streams. The meeting also provided a platform for members of the Technical Consortium to discuss ideas for future research, activities and partnerships.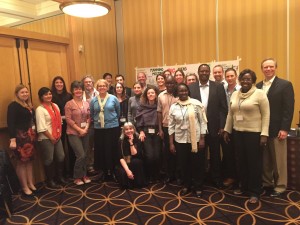 Since its establishment in 2011, the Technical Consortium has been working around three work streams:
Baseline datasets and indicators which the Intergovernmental Authority on Development (IGAD) member states can utilize to measure the progress and impact of their investments and projects on the enhanced resilience of populations in the Arid and Semi-arid Lands in the Horn of Africa.
Methodologies and analytics which member states and other agencies can apply to measure the impact of their interventions and investments towards improving the resilience of populations in the Horn of Africa.
Decision support analysis in the form of tools or models which the member states and others can apply to better target their investments and projects for maximum impact on enhanced resilience for populations in the Horn of Africa.
Which way forward?
The meeting established that future plans for the consortium around these work streams would involve close collaborations with the Kenya's National Drought Management Authority (NDMA) around information and knowledge management for improved technology uptake. The members of the TC also discussed potential areas which the TC would explore for increased impact. This will involve among others:
Exploring urban-rural resilience linkages, to investigate the multidimensional issues that connect urban and rural resilience, such as migration, settlements, and livelihood transitions
Subjective resilience, which will involve exploring how individuals' perceptions influence their behavior and ability to respond to risks and opportunities
Exploring agro-pastoralist system dynamics modeling, to integrate agriculture and pastoralism into models for areas in which communities engage in both activities.
Further, it was also agreed that there is need to harmonise food security and resilient measurement, to align resilience and food security indicators